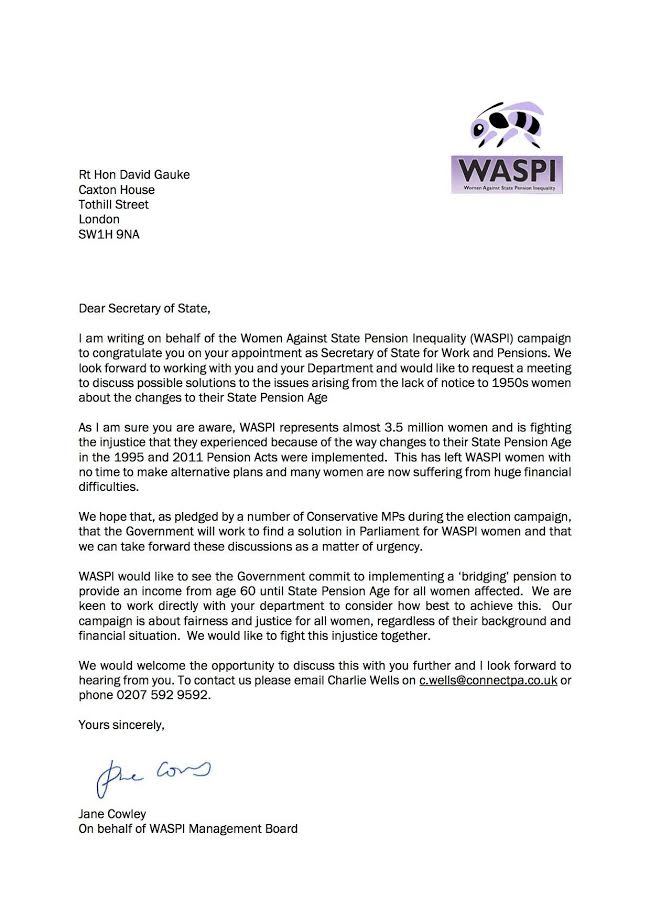 The WASPI Campaign has today (22.6.17) responded to the Queen's Speech and written to the Secretary of State for Work and Pensions, David Gauke calling for urgent action to resolve the issues arising from the lack of notice to 1950s born women about the changes to their State Pension Age.
The WASPI general election campaign called on all election candidates to pledge to work in Parliament to help the 3.5 million women affected by these changes. It secured the support of 480 candidates, 190 of whom are now in Parliament.
​​
WASPI Director, Jane Cowley said:
"We were very disappointed that the Government made no mention of WASPI women in the Queen's Speech yesterday.
"In the run-up to the General Election we were delighted that so many candidates pledged to work in Parliament to find a solution. This included a number of Conservative MPs who have pledged to support our campaign.
"Since then, however, there has been no recognition from the Government of the severe financial hardship faced by women across the country because of the mismanagement of changes to the state pension age.
"We have received support for our campaign from all of the political parties, including an enhanced commitment from the Labour Party to deliver transitional arrangements, and were particularly pleased with Westminster SNP Leader, Ian Blackford's comments yesterday, raising the WASPI issue in Parliament. However, this is not enough.
"We need to take forward discussions on WASPI as a matter of urgency, and have today written to the Secretary of State with a request to meet with us to discuss how we can achieve fairness and justice for all women, regardless of their background and financial situation."
The Westminster Leader of the SNP, Ian Blackford said in response to the Queen's Speech yesterday, "it is utterly disgraceful that some of the worst affected women were given 14 months written notice of an increase in their pensionable age."