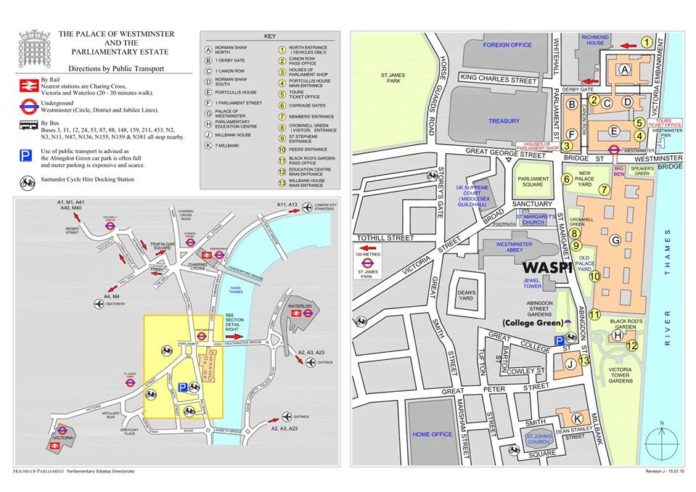 WASPI are planning to rally in Westminster Thursday 22nd November from 12 noon. This is to coincide with the SNP debate in Westminster Hall which begins at 1.30pm until 4.30pm. We will congregate in the vicinity of Old Palace Yard which is shown on the map (marked 10). Exact location will depend on the Metropolitan Police on the day.
Please join us. EITHER – inside to hear the debate where you have the opportunity to engage with MP's leaving the debate or arrange a meeting with your own MP. OR – outside where a BBC film crew have arranged to film us and we can give vent to our feelings.
NO 'stunt' is planned. Just peaceful protest retaining the professionalism and intent of the national Campaign.
Seating availability inside Westminster Hall itself is limited. You are encouraged to arrive at least two hours early if you want to be in with a chance of a seat. On previous occasions an overspill room has been provided where the proceedings can be watched via TV link. Please note you will not be allowed to take banners and placards inside the Palace of Westminster.
If you plan to rally outside, please bring banners and placards, whistles and drums. Be prepared to chant a bit!
WASPI appreciate that for some a journey to Westminster will not be possible. However you will be able to watch the debate on TV, share Facebook posts and Tweet and retweet using the buttons below, all which helps raise awareness. However, we encourage those who are able to join us on the 22nd and make your voice heard.