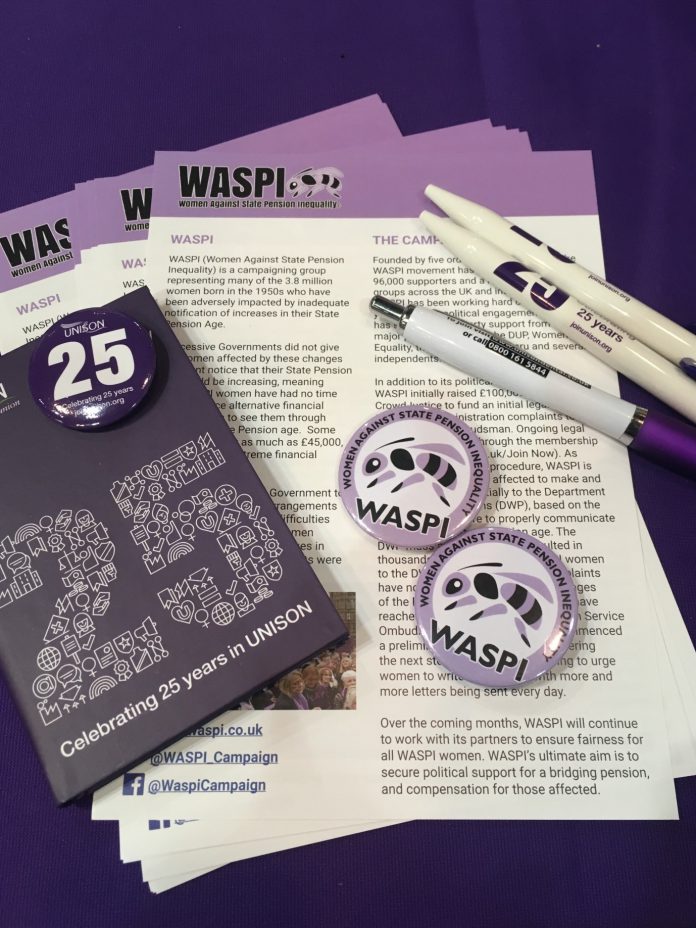 WASPI were present at the UNISON National Delegate Conference 2019 in Liverpool all this week.
Volunteers managed the stand for five days giving out information and encouraging delegates to inform their members about doing something practical towards the fight for justice. We received many compliments about our work and encouragement to keep going.
Many asked "what's the latest on the Judicial Review".  We were only able to answer that we don't know, the judgement is reserved, and we are all waiting for it.  We added that it wasn't our JR, we have a maladministration complaint to the Department of Work and Pensions process underway which has been held in abeyance while the Court Case is decided on.  With the additional advice to watch our website or Facebook page for update information.
We explained too how to make a Complaint of Maladministration to the DWP (about the lack of notice we received. Click here to read more about that (link opens in new tab).  We had to add that they would get a reply from the DWP saying they can't consider a complaint at the moment because of the JR, but that making an initial complaint was important to register it.
Please be assured that when we have news regarding the Judicial Review and our complaints process we will publish it here, and on our Facebook page.  It's a frustrating time for all of us.