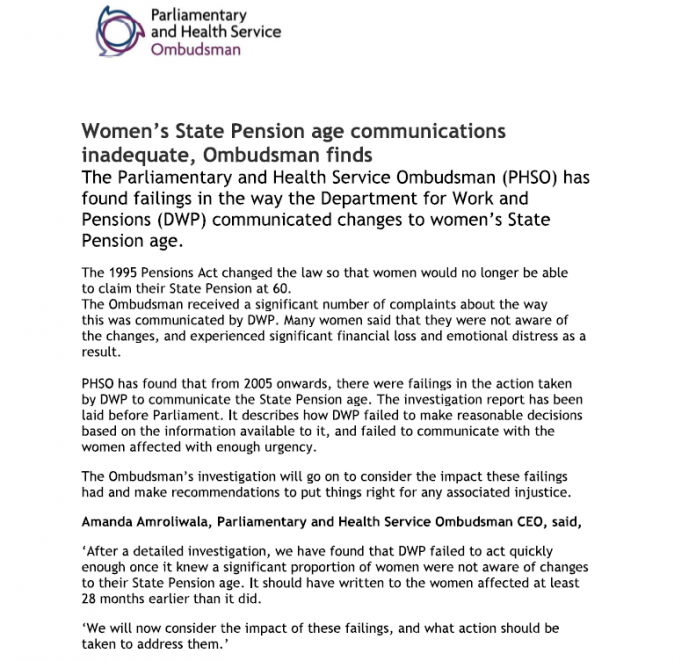 We have been waiting a long time for the PHSO to publish their report on complaints of maladministration on the way our State Pension age increases were communicated. Above is the statement from the PHSO's office issued this morning, and below the WASPI Campaign press release in response to it. Further information will follow.
Click here to read the full PHSO Findings on on the Department for Work and Pensions' communication of changes (link opens in new tab)
Thank you for your support
The WASPI Management Team
---
PARLIAMENTARY OMBUDSMAN'S REPORT
VINDICATES WASPI WOMEN
The Parliamentary and Health Service Ombudsman (PHSO) has today 20th July published its view on the case of how the Department for Work and Pensions (DWP) failed to communicate State Pension age changes to the women affected. The findings vindicate the years of campaigning by the Women Against State Pension Inequality (WASPI) Campaign and the commitment of women who have made individual complaints to the PHSO.
Throughout the campaign and despite support across Parliament, WASPI has been dismissed by successive Governments, with Ministers consistently refusing to meet with the women affected and insisting in Parliament that sufficient notice was given, when even their Department knew this was not the case. In response, WASPI now calls on the Government to urgently compensate all women affected rather than making them wait even longer while the PHSO completes further rounds of its investigation.
WASPI has continuously argued that women were not adequately informed about changes to the State Pension age but their call for action has been repeatedly ignored and dismissed by Government. The latest findings reinforce what WASPI, which represents many of the 3.8 million affected, has been calling for since the campaign was founded in 2015.
Commenting on the report, WASPI's Chair, Angela Madden / WASPI's Communications Director, Debbie de Spon said:
"Today's findings reinforce what we, unfortunately, knew all along; that the DWP failed to adequately inform 3.8 million 1950s born women that their State Pension age would be increasing.

"The DWP's own research showed that women were not sufficiently aware of the changes, yet they failed to act. This inaction had devastating and life-altering impacts on women across the country.

"These women have been waiting for many years for compensation. We cannot wait any longer. We are calling on the Government to agree fair and adequate compensation for WASPI women rather than allow what has become a vicious cycle of Government in-action to continue."
WASPI will now take time to consider the contents with their legal advisers and decide the best way forward for the Campaign.