Support the WASPI campaign – JOIN NOW!
Just £25 will help to run the campaign and mount a strong legal challenge in support of our aim to achieve fair transitional State Pension arrangements for women born in the 1950s.
Individuals pay £25 a year (£15 for those in receipt of benefits) to become a member of our campaign. That's less than 50p a week to become a supporter of one of the most important campaigns this century, fighting for fair pension arrangements for women affected by changes to their State Pension age. Unions, companies and associations are also keen to support the campaign. We now have membership categories suitable for small, medium and large organisations.
Full and concession members will have the right to nominate and vote for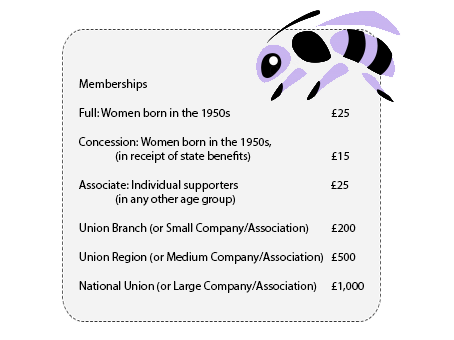 Members' Representatives, who in turn will select women to join the Board of Directors. In this way, you will have the chance to influence the future of our campaign strategy. You'll also be able to attend and speak at Annual General Meetings and will have access to members only communications via the website.
Your donation will enable us to ensure that our campaign grows in strength and reach, both on the political and legal front. You have the assurance that Women Against State Pension Inequality Ltd is a properly constituted company limited by guarantee, and that the financial liability of any member is limited to £1.
We have a designated e mail address for membership enquiries only.  If you have any membership-related questions, please email waspimembers@gmail.com
The WASPI Directors – all unpaid volunteers – will ensure that every penny raised is used to promote our cause in the most cost effective way.
Click here to view the WASPI Membership Terms and Conditions